How Do We Do it?
We combine qualitative and quantitative methods when testing early product ideas, full-blown concepts of products/services, or add-on features to existing product/services.
Qualitative
Qualitative methods can be used to explore perceptions, generate ideas and give directions for fine-tuning product concepts. Among the methods we use are:
Focus Groups (online and offline
One-on-One interviews (online and offline)
Creative exercises as part of ethnographic research, diaries, bulletin boards, etc.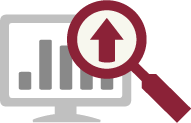 Quantitative
Quantitative data collection and analysis techniques are used to assess viability, key benefits, message points, and ultimately identify a winning product/service idea. Some of the methods we use are:
Monadic Concept Testing
Sequential Concept Testing
Maximum Difference Scale (MaxDiff)
Conjoint Analysis
TURF Analysis