| Posted: by Michaela Mora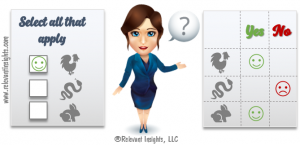 Survey researchers have been debating and researching whether to use dichotomous grid questions (dual-column grid format) or multi-response questions for a while. Both are common survey question types together with rating scales.
Acquiescence Bias
The driver behind this effort is the search for ways to minimize respondent acquiescence bias. This is the tendency to positively agree with all questions or statements in a survey.
Multi-response questions, in which the respondents are asked to select all the options that apply, is a common question format…