Hispanics' Candy Consumption – Heritage & Taste Buds
| Posted: by Michaela Mora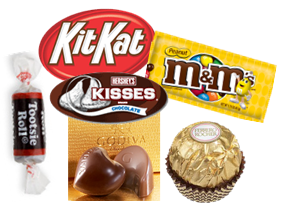 According to Simmons National Consumer Survey, in 2009 Hispanics' candy consumption of brands made by some of the large confection makers was about 15%, which can be considered small compared to the candy consumption in the non-Hispanic population (85%). Since 2004, the big confection manufacturers have been trying to increase Hispanics' candy consumption by buying local brands south of the border or developing new flavors that would attract Hispanics. They have even tried to reach this segment through partnerships with Latino artists (e.g. in 2004, Hershey's signed a multi-year contract with Latina singer Thalia). However, based on these numbers, it seem that confection makers still have a lot to do to penetrate this market segment.
Nonetheless, Hispanics' candy consumption wasn't too bad for some of the confection makers in 2009. Hershey's, with a large product portfolio, took the top spot with nearly 1 out of 2 candy-eating Hispanics satisfying their sweet tooth with Hershey's brands from Hershey's Kisses to Good & Plenty. Mars competed pretty close with a set of brands from M&M's, Snickers to M-Azing.
Acculturation levels didn't seem to play a big role in preference for a candy brand, but heritage definitely did. Hershey's biggest fans were be found among Puerto Ricans, followed by Mexican Americans. Mars brands were also among the favorites for these groups. However, Cubans and other Hispanics groups consumed Hershey's and Mars confections in less degree. Interestingly enough Godiva chocolates did better among Cubans, which may say something about their taste preferences.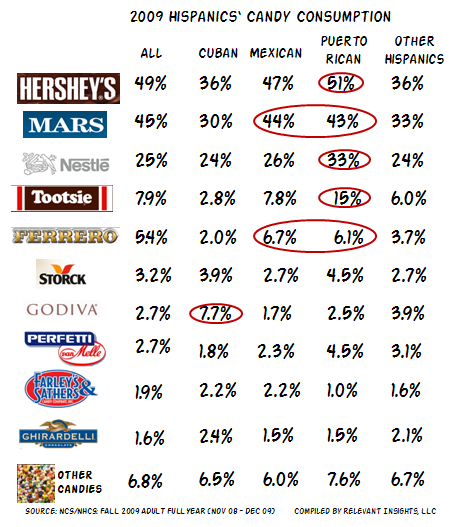 Overall, it has been accepted that Hispanics favor chocolate bars with almonds, intensely flavored products and confectionery with combination of flavors, such as hot and tangy. But these are generalities that miss to take into account differences among Hispanics, particularly when it comes to food. For example, "tangy" and "hot" flavors are likely to be preferred by Mexican Americans, but hardly by Cubans.
How much consumer research confection makers are doing to understand the Hispanic market's diversity is unknown. This market segment may be considered small compared to the non-Hispanic eating-candy population, and confection makers may think its size doesn't warrant allocating research resources to it. I would speculate that the segment may be small because not enough resources have been invested to expand it, and precisely because it is small now, the confection makers that invest in understanding this market segment, its diversity, cultural influences, taste preferences and shopping behaviors are likely to win big given the predicted exponential growth of the Hispanic population in the US for the near future.
To learn more about our consumer data service visit Consumer Shopping Behavior Insights. To request consumer shopping behavior data and insights don't hesitate to contact us.