MaxDiff Presentation at The 2010 AMA Market Research Conference
| Posted: by Michaela Mora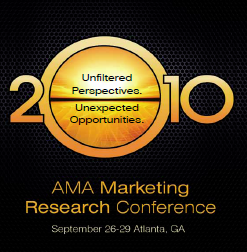 This month I will be presenting at the 2010 AMA Market Research Conference in Atlanta, Sept 26 -29, with my colleague Kathryn Korostoff from Research Rockstar. Our session is about Maximum Difference Scaling (MaxDiff) and its use in market segmentation.
We will talk about what MaxDiff is, how it compares to traditional methods such as rating and ranking questions, and in what types of research can be used. We will also discuss case studies where MaxDiff has been applied in market segmentation.
Why should you care? Simply because MaxDiff helps to make better business decisions and this is an opportunity to learn why and how. Based on our own experience after conducting MaxDiff studies for many of our clients, I know that MaxDiff can deliver powerful insights and our clients feel more confident in their decision making.
To learn more about MaxDiff and its applications check Making The Case For MaxDiff .