T-Mobile Is Popular Among Hispanics
| Posted: by Michaela Mora
CONSUMER FACTS
T-Mobile's efforts to reach the Hispanic market seems to be paying off. One out of four T-Mobile subscribers is of Hispanic origin, according to the latest data from Experian Simmons. By contrast, the leading telecom companies, AT&T and Verizon don't seem to have a strong hold among Hispanics.
After analyzing data for the past two years, Experian Simmons recently confirmed that T-Mobile's market share has remained unchanged with 9.6%  of subscribers as of May, 2010, while AT&T and Verizon claim more than twice the number of subscribers with 22.4% and 25.7%, respectively.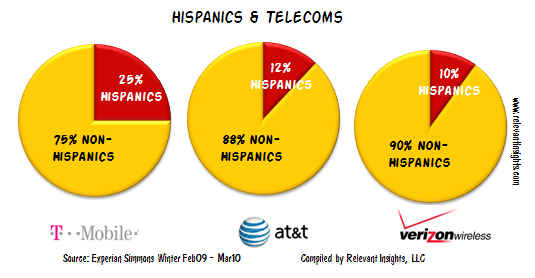 There have been rumors of a possible merger between T-Mobile and Nextel/Spring. If this materializes, the new entity should continue their pursuit of the Hispanic market, which is the smartest move any company can do given the demographic trend towards a more diverse population driven by the growth of the Hispanic segment.