Insightful Planning On A Tight Market Research Budget
| Posted: by Michaela Mora
by

Michaela Mora
as published on April 30, 2010 by the Dallas Business Journal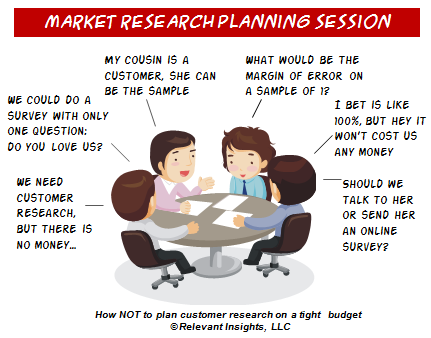 Bad economic news has been a daily event for the last 24 months. We have heard about thousands of companies filing for bankruptcy and millions of people losing their jobs. Last year, most companies slashed marketing expenses and reduced market research budgets to almost nothing. It's survival time, but I would argue many companies are going about it all wrong. Now, more than ever, market research can help companies to invest wisely the few resources they have. Ideally, this is the time to get creative and find cost-effective ways to conduct market research.
So, how can you do good market research on a small budget? Here are points to consider:
CONTROL FOR RESEARCH SCOPE

. Look long and hard at the business issues at hand and separate "nice-to-know" from "need-to-know" information. Focus on the most critical issues to reduce survey length and time needed for data processing and data analysis.
REDUCE SAMPLE SIZE.

Sample size requirements should be carefully considered, taking into account the impact on estimate accuracy. As samples get larger, estimate accuracy and sample costs increase, but there is a point where the gains in estimate accuracy don't justify the increased cost. Recently, I had a client who wanted to conduct an online survey with a sample of 1,000 respondents, which would give a statistical accuracy of +/-3.1%, but it would cost $8,000. On the other hand, a sample of 400 respondents would give a statistical accuracy of +/-4.9% and cost $3,400. As you can see, a 135% increase in sample cost would only yield a 60% gain in statistical accuracy. The client opted for the smaller sample.
USE CUSTOMER DATABASES

. Customers' feedback often provides invaluable insights given the relationship they already have with a company. What's more, a customer database is the cheapest source of sample for research purposes, since it is already in-house. However, be aware of its potential limitations given the profile of your customers and the type of data you have gathered about them. Know how the database was sourced. For example, if most of your customers are small businesses or females younger than age 25 and you are interested in understanding how your products will perform in other market segments, then your customer database is not the right sample source for a market segmentation study.
USE ONLINE DATA COLLECTION TOOLS

. In the past few years an explosion of online survey tools has reduced the cost of data collection significantly and shortened the research process time line. However, there are a couple of caveats:
 Market research is the field in which the principle of "garbage in, garbage out" has the most application. Programming and deploying online surveys is easier and cheaper than ever, however the online tools that facilitate this don't provide the content of the actual survey. You still need expertise in questionnaire design, research methodology, sampling and data analysis to be able to extract useful insights from the survey data.
Online surveys are not always the most appropriate methodology for the research objectives and target sample. For example, consumers in lower income brackets are less likely to have Internet access, therefore they would be underrepresented in an online-only sample. In this case, it would be more appropriate to reach them by phone or in person.
HIRE SMALL MARKET RESEARCH AGENCIES

. There are many small market research agencies with big agency capabilities and experienced market researchers, but low overhead cost. They are often very responsive and flexible and can do the job with the same — and sometimes better — quality than bigger research firms for a fraction of what larger firms would charge.
Market research doesn't have to be expensive to be well done. Consider these points and find a research partner that is willing to invest in your success. This will allow you to do market research on the smallest budgets.
To learn more about our consumer data service visit Consumer Shopping Behavior Insights. To request consumer shopping behavior data and insights don't hesitate to contact us.