Market Research Vendors and Clients: Let's Be Partners
| Posted: by Michaela Mora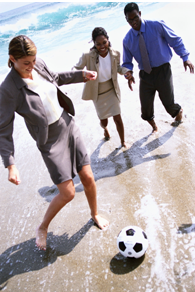 In-house market research departments are facing great challenges as the market research industry undergo changes, as my colleague Kathryn Korostoff, president of Research Rock Star, points out in her recent article Market Research Departments: The Hero of the Market Research Story.
According to Korostoff, in-house market research departments are dealing with:
1. An unmanageable number of market research-related associations, social networking groups, events and interactive "media"—too many to keep up with, too many to ignore.
2. Proliferating pockets of unsanctioned research, often done by well-meaning but untrained colleagues.
 3. Increasingly sales-hungry research suppliers, making the risk of answering a phone call almost unbearable.
4. Insufficient time to truly assess the options and merits of social media-related research methods.
 5. Insufficient time, and in some cases authority, to establish and enforce customer research policies (which are of urgent importance because of the unsanctioned research that does take place).
6. Internal clients becoming aware of numerous "market research" services and solutions, many of which are at best distractions and at worst disruptive.
7. Internal clients who are reading about "free" market research options, when in reality the phrase "market research" is being used very loosely.
Undeniably, the increasing presence of social media, the vast amounts of user-generated content and the proliferation of low-cost online data collection tools are having an impact on the matket research industry, not only for in-house market research departments, but also for research vendors. Some of the challenges research vendors face today are:
Clients with little training in the fundamentals of research, expecting to get a lot of "free" research just because they have access to cheap online survey tools, social media and information on the Internet.
Clients' complacency with "good" enough research and willingness to bend rules that impact data quality due to small budgets.
Clients' unwillingness to share critical internal information that would allow research vendors to provide the support clients need and reduce their "vendor management" time.
Convincing clients that old established ways ("we have always done it this way") may not be valid anymore for their current situation.
Time to keep up with demographic and cultural trends that have an impact on how we design research, collect data and analyze it.
Need to deliver faster results on very small budgets.
I agree with Korostoff, there is a battle out there, but after being on both side of the line of fire as an in-house market research department and as a market research vendor, I can say the battle is equally fierce on both sides. Interestingly enough, we all want the same thing: We want our clients to succeed as much as they want to succeed themselves. 
My hypothesis is that we could win the battle via collaboration since clients and research vendors complement each other. We each have something unique to offer. We can be partners.
To clients I propose: 
Let vendors provide you with training and bring you expertise, new approaches and insights when needed.
Share your industry expertise with us, tell us about relevant business issues we need to be aware of in order to serve you better.
Let's exchange experiences about the use of emerging technologies and knowledge about new consumer, industry and social trends and their application to market research.
Let's collaborate in testing new approaches and re-evaluate established methods in the light of current market conditions.
 Let's us help lighten your burden and in turn help us grow and keep our industry moving forward.
 If you have other ideas of how clients and research vendors could collaborate to keep the market research community thriving, I welcome your comments.