Online Qualitative Research Techniques Review
| Posted: by Michaela Mora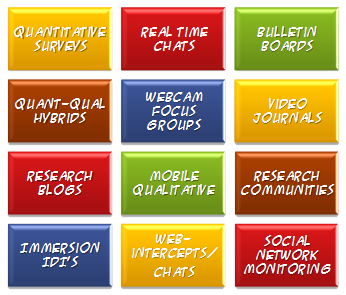 Qualitative research is going beyond in-person focus groups and experiencing a revolution for the better. Jim Bryson, president of 20/20 Research recently did a great presentation at the Fort Worth monthly luncheon organized by the DFW AMA about the latest online qualitative research techniques.
Thanks to the development of new online platforms, the qualitative research field have seen an explosion of new online qualitative research techniques that makes it possible to collect data in ways we couldn't before.
Among the new online qualitative research techniques, we now have:
Bulletin boards
Immersion IDI's
Mobile qualitative
Quantitative-Qualitative hybrids
Real time chats
Research blogs
Research communities
Social networking monitoring
Video journals
Webcam focus groups
Web-Intercepts/chats
These new online qualitative research techniques have often made qualitative research better, faster and cheaper (not always). Studies using these online qualitative research techniques can be deployed pretty quickly and provide immediate access to transcripts or videos for review.
As for making qualitative research better, Bryson rightly points out to the advantages of most of these methods:
Geography: it allow us to reach a wide-range of people across different regions without travel
Candor: due to the privacy and confidentiality of online, many participants feel more comfortable to discuss sensitive topics
Convenient access: both clients and participants can participate whenever is more convenient to them and their locations
Longitudinal capabilities: studies can be extended over time as long as needed to understand the groups of interest
Below are some of the most often used online qualitative techniques, their advantages, disadvantages, and applications according to Bryson: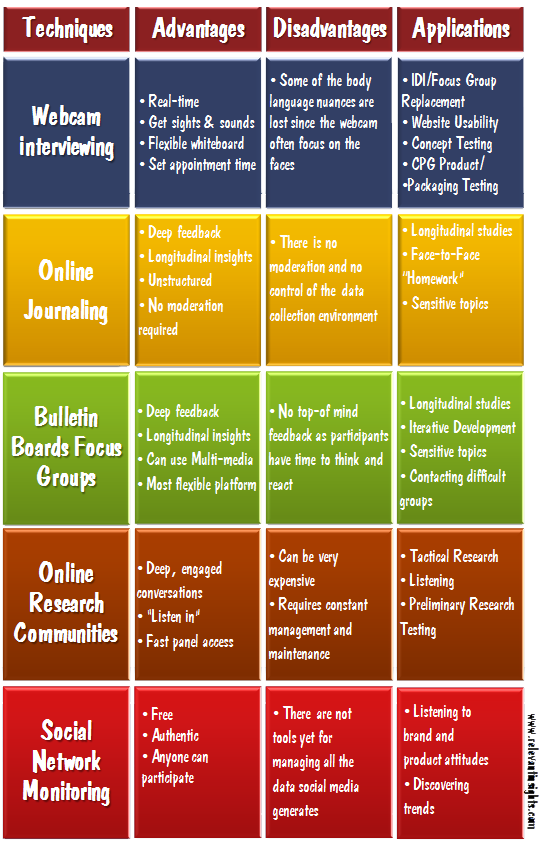 Mobile qualitative research, according to Bryson, will definitely be part of market research's near future. This can be easy and comfortable for the participants, although for now is limited to text only. This technique can be used for reaching to difficult groups, send reminders about "homework" given to study participants, and do research at the point of consumption.
Another approach getting traction is hybrid research, where quantitative and qualitative research are combined in one data collection opportunity. 20/20 Research recently launched a new service called Quallink where participants start in a survey and then are enrolled in a qualitative study. Hybrid research can also be done using SurveyGizmo, which has the capability to integrate online surveys with chat sessions from iModerate.
The main advantages of a hybrid approach are:
Immediacy: there is no lag between quantitative and qualitative data collection
Can be very cost effective since cost incurred in recruitment, travel and focus group facilities can be eliminated
Ability to do a deep-dive on the story behind the numbers
Ability to segment qualitative data together with quantitative results
There is no question that qualitative research has come a long way and that all these new techniques make this field exciting and promising, but before you get carried away by all the excitement, don't forget to have clear research objectives and evaluate if these techniques are a good fit for what you want to accomplish.
To learn more about our consumer data service visit Consumer Shopping Behavior Insights. To request consumer shopping behavior data and insights don't hesitate to contact us.