Review Of Three Powerful Online Survey Tools
| Posted: by Michaela Mora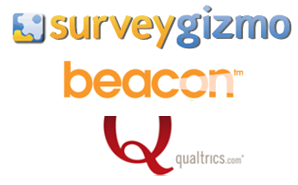 Updated October 23, 2013
After posting the comparison of three popular online survey tools' free versions, many have requested a similar analysis of paid online tools. It seems there is a new tool coming up every day and comparing them all would be a rather difficult task. I decided to compare three online survey tools I have used most recently for different projects.
I have been using SurveyGizmo for a while now. As I said in my previous post, it is a great value given the number of features it offers at a very affordable price. The tool has been improving with time so it was a natural choice for comparison purposes.
Not long ago, I saw a demo of Beacon by Decipher and was pleasantly surprised by the advanced features if offered and the business model that supports it. Most online survey tools require either a monthly or annual subscription, but Beacon does not. You only need to pay for completed surveys. I decided to give it a shot and used it to program a pretty complex survey. I had the chance to become very familiar with the tool, and thought it was worth including it in this comparison.
Finally, since my above mentioned post about free online survey tools, I have had many requests asking me to review Qualtrics, which is also becoming quite popular. I happened to use it in two recent projects with very different requirements, which gave me the opportunity to test it in depth.
For a comparison between SurveyGizmo, Qualtrics, and SurveyMonkey check the post: Three Popular Online Survey Tools – What You Get For Your Money.
The list below includes some of the most often-used features in moderate to advanced survey programming and, as you can see below, all three online survey tools are pretty powerful and comparable in many aspects. That said, none of these online survey tool is perfect, and they all would benefit from continuous improvement in capabilities and usability. Most of the time they do the same thing in different ways that have an impact on  users' learning curve.
 

General Overview

Number of surveys

Unlimited
Unlimited
Unlimited

Number of questions

Unlimited
Unlimited
Unlimited

Number of responses

Unlimited
Unlimited
Depends on license

Number of email invitations

Up to 500k
Unlimited
Unlimited

Multi-page surveys

Account users

Up to 20 users
Unlimited
Depends on license

Question types

32
60+
90+

Graphic survey templates

37

22

+ custom templates

55

Real-time reporting

Data exporting

Data deletion

Never
Never
If account is closed

Supports all languages

Price

$75/mo.
or $810/annual subscription

No subscription needed. Pay $0.75/complete. No minimum

From Free trial. $5,000/year

Question Types

Textbox – Short text

Textbox – Numeric Format Validation

Textbox – Email Format Validation

Essay – Long text

Multiple text fields

Table of text fields

Checkbox

Table of checkboxes

Radio button

Table of radio buttons

Bipolar, semantic differential

 

Drop-down menu

Tables of dropdown menus

Ranking – Table format

Ranking – Drag & Drop

Ranking – Top X# of items

Ranking – Stars

Constant sum

Continuous sum

Constant sum table

 

Descriptive Text/Image

Image choice (radio button/checkbox)

Video

Free if using streaming service. Hosted for a fee

Contact information form

Date format

 

Heatmap

Image/Text Highlighting

 
MaxDiff format
 

Card Sorting

Stack Sorting

 

Question/Page timer

 

File upload

Captcha

 
 

Drill down

 
 

Combination of different question types in one table

Survey Formatting

Customizable font family

Customizable font size

Customizable font color

Customizable background colors

Add/Edit Options in Bulk

Change orientation of labels and options

 

Change position of labels

Editable Next, Submit, and Close buttons text

Editable Next, Submit, and Close buttons graphic elements (color, size, borders)

 
 

Optional question numbering

Fully Customizable XHTML/CSS templates

Can create own CSS templates

Simple form

Mobile survey compatible templates

Auto-format as currency, percentage, or a whole number

Editable error messages

Change length, height, and width of textbox or table

Editable survey width

Editable survey after deployment

Min and Max options for numerical answers

Reorder Questions

Randomize columns in a table/matrix question

 

Randomize questions within a page

Set how many checkboxes someone can check

Optional survey tool's logo

Depends on license

Add your own logo /White label

Separate answer titles and reporting values

Question grouping in blocks

 

Logic

Question-based skip logic

Skip logic based on hidden variables

Show and hide questions based on logic

Question trigger on the same page

 

Pipe answer titles or reporting values from a question into another

Repeat questions based on answers to previous questions

Repeat pages based on answers to previous questions

Add values from a URL variable as question options

Add custom script / Javascript

 

Quiz score with pass/fail

 

Make questions required

Make the questions soft-required

 

Random assignment of respondents to different paths/cells/blocks

 

Report Creation Options

Real-time online report

Crosstabs

Counts, Percentages
Counts, Percentages, Means, Top 2 Box
Counts, Percentages

Statistical Testing

 
T-Test, Test of Proportions
Chi-Square, T-Test, Test of Proportions

Graphing – Use a bar graph, pie chart or spreadsheet to view answers

Export data to Excel, CSV

Export data to SPSS

Browse all responses individually

Can change titles and internal report values

Clear all responses

Share results with others via a link with or without a password

Share results with all respondents by including a link on the Thank You Page

Add a sharing/bookmarking button

 
 

Export report to PDF

Export report to Word

Export report to Excel

Export report to E-mail

Export report to Power Point

 

Survey Deployment

Generate test data

Send email using survey tool

Send reminders using survey tool

Set a cutoff date and time

Set maximum response count

Enable IP blocking

Redirect browser

Link to panel providers

Pass data through survey link

Add a unique survey identifier to each link

Embed surveys into a Webpage

Embed surveys using an iFrame

Collect data in offline mode

 
 

Collect data in Kiosk mode

Convert link into QR code

 

JavaScript option embed surveys using JavaScript

 
 

Question-based quotas

Close survey based on total quota

Remember respondents' place in survey if completion interrupted

Other Survey Options

Recode values of answer options

Pipe in values from answered questions into later questions' answers

Pipe in values from answered questions into later questions' text

Upload images to internal library

Embed images and media via external link

Prevent search engines from indexing survey

Thank You page

Add a "Close" button to Thank You page

 

Back Button Optional

Progress Bar Optional

Create hidden variables

Compliance with Section 508 guidelines of the Rehabilitation Act

 

Export survey to PDF

Export survey to Word

Import SurveyMonkey surveys

 
 

Create mobile-compatible surveys

Import data from other data sources

 

Polls

Poll templates

37 + Custom
 
Customizable CSS

Poll Types

Single choice, Image Choice, Ranking
 
Single choice, Multiple Choice

Poll result sharing

 

Vote protection

By IP address, by cookies, or none
 
On/Off

Poll Widget sizing

 

3rd Party Integration

Open API access

 
Available for certain accounts

Facebook integration

 

Twitter integration

 

MailChimp integration

 
 

Salesforce.com integration

 

iModerate integration

 

ClickTale integration

 
 

ExactTarget Surveys integration

 
 

Freshbooks Surveys integration

 
 

Jive Surveys integration

 
 

Eventbrite integration

 
 

GoDaddy integration

 
 

Twilio SMS integration

 
 

Cint Panel integration

 
 

WhatUsersDo Testing integration

 
 

Support

Support via email

Support via phone

Support – FAQ, Tutorials
Updated 10/23/2013
I find SurveyGizmo to be the most user-friendly and you can do pretty advanced programming with it. They have been adding new question types and integration partners. However, the data export to SPSS and result reporting feature need improvement. For some reason multiple choice questions get some random variable names that don't match the variable name specified in the survey, when they get exported to SPSS. Variable names don't show up in the online reports either. Also, I wished they included statistical testing in their crosstabs.
Qualtrics is the second most user-friendly survey tool of the three. Some things are not obvious. I like the large number of question types. Many are variations of standard questions with horizontal and vertical layouts, with and without images. Among the question types, you will find Constant sum tables, Heatmaps, Hotspots (The latter is pretty useful in concept testing) and MaxDiff (assuming you already have an experimental design). They recently added a new reporting tool, which is still in beta. I like that you can add banner points to the crosstabs and drill down through different question layers, unfortunately it is still not very intuitive when it comes to create different table types.
Beacon is a powerful tool, but the learning curve is a bit steep. Thankfully, they have a very responsive technical support, and I was able to get answers to my long list of questions and issues, very quickly. What I liked the most about Beacon is the flexibility it offers to create very complex skip patterns and validations. I also liked its crosstabs. They include counts, percentages, means and Top 2 Box with statistical testing. Initially I was mostly bothered by a somewhat cumbersome process for previewing and testing surveys, since I think these are basic features, but they have recently simplified the process and made previewing and testing much more easier and user friendly. A minor thing I don't like, that is more about my own taste than anything else, is that all questions have a table format and there is no way to change that. The tool seems to have been developed by and for programmers since the environment is not very intuitive for neophytes. You can spend a lot of time trying to figure out how certain basic features work.
Regarding cost, each online survey tool uses a different model. SurveyGizmo's subscription can be monthly or annual (the latter gives you a 10% discount). Beacon doesn't require a subscription, but charges $0.75/complete. This may be a good deal compared to SurveyGizmo as long as your project's sample or the total sample across different projects is 100 or less. If you go over 100 respondents, SurveyGizmo would be a more economical alternative with unlimited completed surveys.
Qualtrics is the most expensive of the three. The number of completed surveys will depend on license cost and you have to commit for a whole year, so consider your research volume before making such commitment. However, if you have need of some of their unique question types (e.g. Hotspot), it may be worth it.
As I said before, no online survey tool is perfect. All have quirks when you get into the details. The decision to use one or the other should be based on how well they meet the needs of the project you are working on and what the budget is.