How Customer Acquisition and Retention Goals Should Guide Your Market Research Efforts
| Posted: by Michaela Mora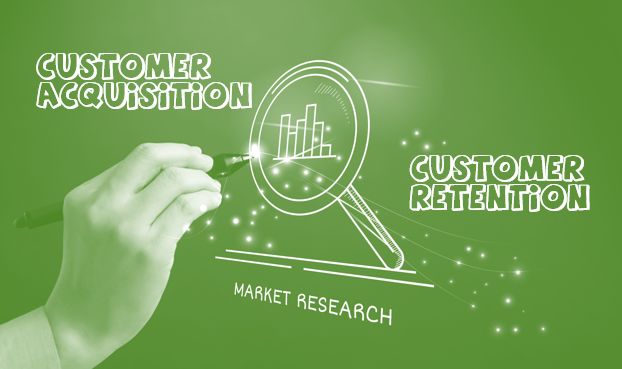 Market research should support decisions related to customer acquisition and retention goals. After all, businesses are either working to acquire or retain customers, or both.
If you plan to put aside money for market research this year, think very carefully about how you will use research results in your business decisions.
I meet many business owners interested in market research. However, some have only a vague idea of how they will use the resulting data. Then, they are disappointed when they don't get the insights they ultimately need.
The solution is to spend time upfront aligning research objectives and business goals. Unfortunately, businesses don't spend enough time on clarifying goals and desired outcomes, when market research is a last-minute thought before a big decision,
Acquisition or Retention?
Depending on whether customer acquisition or customer retention is the main priority, we have to determine:
The research design and analytical approach we should use to analyze the data.
The questions that go in a survey or discussion guide in qualitative research techniques (e.g. Focus Groups)
The type of people we need to include in the sample
Who we should include in the study sample: Customers or Non-Customers? a client, wanting to implement a brand tracking study, asked me recently. Another client, interested in conducting pricing research before making a decision to change prices, asked the same question.
In both cases, I answered: What is your priority now: Acquire or retain customers?
Which Reseach Approach To Use
If the main goal is customer acquisition, we need to include non-customers in the sample. The goal is to uncover how receptive they are to our brand and prices, and how likely they are to become customers.
On the other hand, if the focus is on customer retention, we need to target customers. The goal is to take a pulse on the brand and understand their likelihood to defect or buy more when faced with price changes.
At the same time, I'd also recommend including non-customers, if the budget allows it. The goal is to monitor competitor activity and have a reference point to gauge our performance.
In short…
In conclusion, businesses should align business goals with the outcome we expect from different research methodologies. This leads to actionable research. Subsequently, they will maximize the return on investment in market research.