6 Decisions To Make When Designing Product Concept Tests
| Posted: by Michaela Mora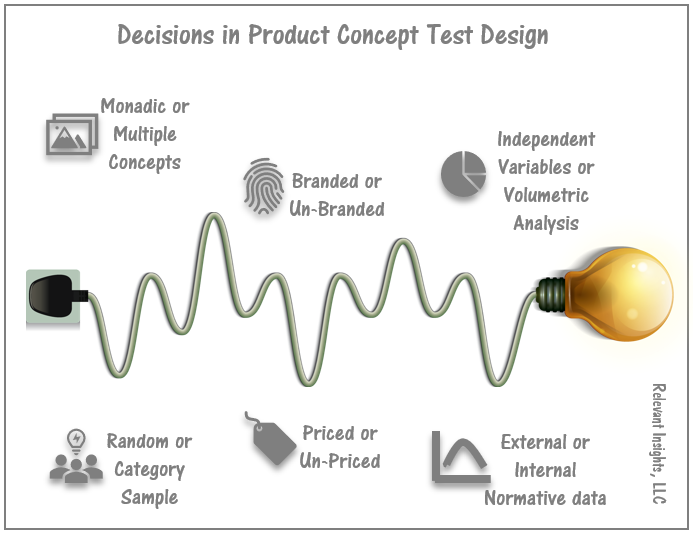 Designing good product concept tests requires a lot of forethought. I often meet clients wanting to test product concepts, who are surprised when we discuss all the issues we need to consider in product concept testing.
In Quick's article Best practices to improve new product concept testing, Jerry Thomas, from Decision Analyst, discusses what he has seen to work best when designing product concept tests. This has also been my experience.
Research System For Product Concept Tests
Firstly, Thomas recommends creating a research system supported by standards and standardized processes. The goal is to test all new product concepts in the same way inside the company. Consequently, companies will be able to compare concept tests over time and across concepts.
According to him, concept standards should address at least the following:
Format: Print or video
Presence of illustrations
Content of illustrations: Type and size of illustrations (include retail package or not?)
Copy: Style, tone, complexity, and length
Font types and sizes
Degree of finish (rough or magazine-ready?)
Presence of price (priced or unpriced?)
Presence of brand (branded or unbranded?)
Unfortunately, in my experience, most companies don't have such a system and treat concept tests as isolated ad-hoc projects. This is also reflected in the quality of the concept descriptions, which differ in style, content richness, and format across concepts.
In other words, concepts are often poorly written by internal research or marketing staff. Above all, they frequently have little resemblance to how the product will actually be positioned and presented to consumers.
Decisions You Need to Make When Designing Product Concept Tests
Secondly, Thomas goes further to elaborate on some of the decisions we need to make when designing product concept tests.
These decisions include: which approach to use (monadic vs. multiple, decision often driven by cost), whether to show prices and brands, which sampling strategy to follow, which normative data to use as a reference (if available), and what analytical approach to adopt.
1. Monadic-One Concept Vs. Multiple Concepts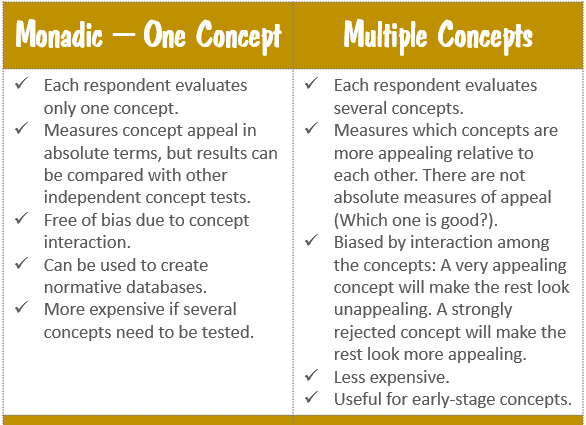 2. Price vs. Un-Priced Products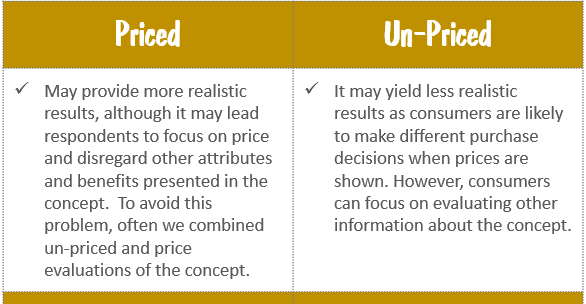 3.  Branded Vs. Un-Branded Products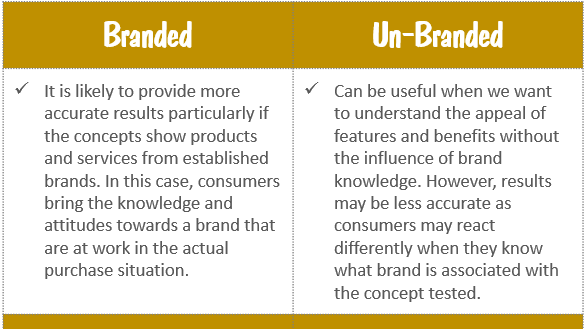 4. Random Sampling Vs. Category Sampling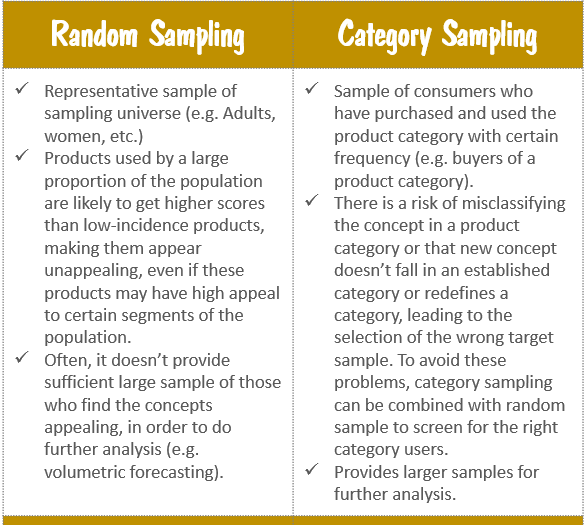 5. External Vs. Internal Normative Data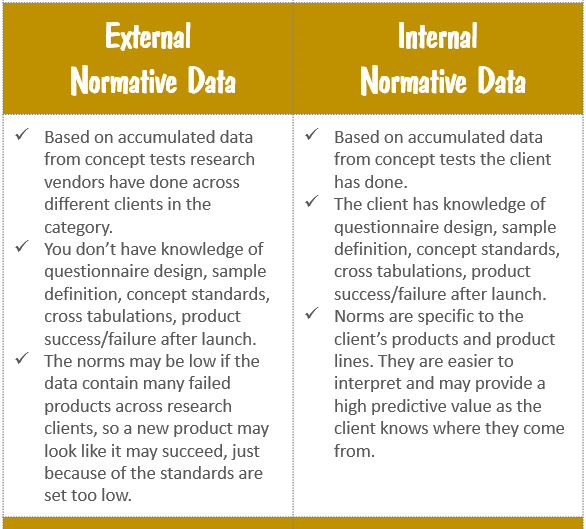 6. Analysis of Independent Variables Vs. Volumetric Analysis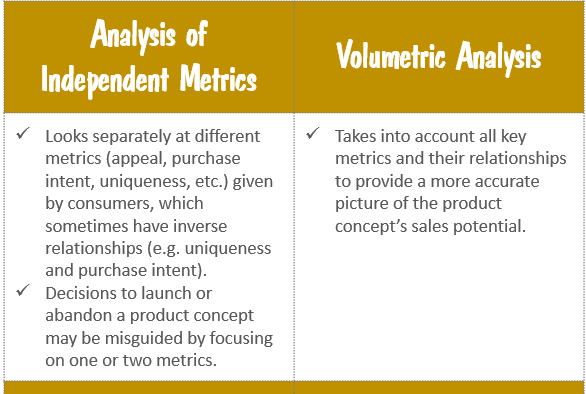 Testing Success In Product Concept Tests
Finally, Thomas shares the odds at succeeding with tested concepts. According to him, "about one-in-10 concepts will be good enough to warrant investments in product development to create the product that fulfills the promise of the concept." Furthermore, "roughly one-in-five of this group will eventually be deemed worthy of taking to market. Unfortunately, it's a numbers game, and the odds are against you."
To sum up, companies that establish research systems to support consistent product concept testing and chose to follow best practices in the issues discussed above are more likely to develop successful new products.
To learn more about our Product Concept Testing service visit Concept Testing and Product Optimization.
(An earlier version of this article was originally published March 21, 2011. The article was last updated and revised on May 26, 2019.)