Three Popular Online Survey Tools – What They Give For Free
| Posted: by Michaela Mora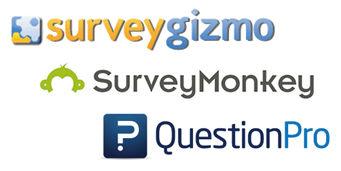 Customers are still looking for free online survey tools. Since I published this post in March 2010, a lot have changed in the world of online survey tools, so it is time to do a comprehensive update. The main change making the prior post obsolete is that Zoomerang, one of the tools in the initial comparison, ceased to exist after being purchased by SurveyMonkey last year.
 As we all know, the advent of online survey tools has lowered the cost of data collection and made it easier for many internal market research departments on the client side to deploy their own online surveys.
 Reduced or non-existent market research budgets continue to be the norm, and since the first publication of this post, clients are still looking for free survey online tools or very cheap solutions to get the job done. When I ask what tools are being used, the most common answers I get are SurveyMonkey, SurveyGizmo or Qualtrics.
 I started using SurveyMonkey almost 10 years ago when I worked on the client side and had no budget. Eventually I had to look for an online survey tool with fewer limitations. For a while I used VantagePoint, which I then abandoned for Confirmit. The latter is a very advanced tool, but also quite expensive. So my quest continued and then a few years later I stumbled upon SurveyGizmo, which really surprised me with a long list of features I wanted in an online survey tool at a very low cost. About the same time I also tested QuestionPro, but found I could get similar capabilities with SurveyGizmo at a lower price. Since QuestionPro still offers a free version of the tool I decided to include it in this review in lieu of Zoomerang.
 The reason why Qualtrics is not included in this post is that its free version is actually a trial version. You have access to all the features in the tool, but once you use up your allowed number of responses (250) you are forced to upgrade to the paid version. I have had the chance to use Qualtrics on behalf of several clients, and I think it is a terrific tool. It has tons of features, but also a steep price. For more on Qualtrics check the post "Review Of Three Powerful Online Survey Tools"
 There are many online survey tools that offer a free limited version so you can test the tool and have a feel for it. However, not all free versions are equal. Since I still get asked what online survey tools can be used for free, I decided to share this review of three online survey tools that seem to be popular on a set of features that would allow me to create from simple to slightly more advanced surveys.
 

| | | | |
| --- | --- | --- | --- |
| General Overview | | | |
| Number of surveys | 3 | Unlimited | Unlimited |
| Number of questions | Up to 25/page, 5 pages | 10 | 12 |
| Number of responses | 100/survey | 100/survey | 100/survey |
| Multi-page surveys | | | |
| Account users | 1 | 1 | 1 |
| Question types | 8 | 15 | 15 |
| Graphic survey templates | 22 | 15 | 18 |
| Real-time reporting | | | |
| Data exporting | | | |
| Never delete data | | | |
| Supports all languages | | | |
| Price | Free | Free | Free |
| Question Types | | | |
| Textbox – Short text | | | |
| Textbox – Numeric Format Validation | | | |
| Textbox – Email Format Validation | | | |
| Essay – Long text | | | |
| Multiple text fields | | | |
| Table of text fields | | | |
| Checkbox | | | |
| Table of checkboxes | | | |
| Radio button | | | |
| Table of radio buttons | | | |
| Drop-down menu | | | |
| Tables of dropdown menus | | | |
| Ranking – Table format | | | |
| Ranking – Drag & Drop | | | |
| Ranking – Top X# of items | | | |
| Ranking – Stars | | | |
| Constant sum | | | |
| Continuous sum | | | |
| Instructions/Text | | | |
| Image | | | |
| Video | | | |
| Contact information form | | | |
| Date format | | | |
| Survey Formatting | | | |
| Customizable font family | | | |
| Customizable font size | | | |
| Customizable font color | | | |
| Customizable background colors | | | |
| Add/Edit Options in Bulk | | | |
| Add an open textbox so users can add to their own choice | | | |
| Change orientation of labels and options | | | |
| Change position of labels | | | |
| Editable Next, Submit, and Close buttons text | | | |
| Optional question numbering | | | |
| Fully Customizable XHTML/CSS templates | | | |
| Auto-format as currency, percentage, or a whole number | | | |
| Editable general error message | | | |
| Change length, height, and width of textbox or table | | | |
| Editable survey width | | | |
| Editable survey after deployment | | | |
| Report Creation Options | | | |
| Real-time online report | | | |
| Graphing – Use a bar graph, pie chart or spreadsheet to view answers | | | |
| Export Data to Excel, CSV | | | |
| Browse All Responses Individually | | | |
| Can change titles and internal report values | | | |
| Clear all responses | | | |
| Survey Deployment | | | |
| Send email using survey tool | | | |
| JavaScript option embed surveys using JavaScript | | | |
| Embed surveys using an iFrame | | | |
| Embed surveys into a Webpage | | | |
| | | | |
| | | | |
| Post to Social Network (Facebook, Twitter, Linkedin) | | | |
| Password protection | | | |
| Set a cutoff date and time | | | |
| Set maximum response count | | | |
| Enable IP blocking | | | |
| Redirect browser | | | |
| Link to panel providers | | Linked to own panel | |
| Incentive Management tool | | | |
| Other Survey Options | | | |
| Make questions required | | | |
| Randomize the answers to your question | | | |
| Randomize columns | | | |
| Reorder Questions | | | |
| Set how many checkboxes someone can check | | | |
| Pipe in values from answered questions into later questions' answers | | | |
| Upload images | | | |
| Embed external images and media | | | |
| Min and Max options for numerical answers | | | |
| Prevent search engines from indexing survey | | | |
| Thank You page | | | |
| Add a "Close" button to Thank You page | | | |
| Back Button Optional | | | |
| Progress Bar Optional | | | |
| Add custom variables to each link | | | |
| Create hidden variables | | | |
| Compliance with Section 508 guidelines of the Rehabilitation Act | | | |
| Export survey to PDF | | | |
| Export survey to Word | | | |
| Polls | | | |
| Poll Types | Single choice, Image choice, Ranking | | Single choice, Multiple choice, Text Box |
| Poll result sharing | | | |
| Vote protection | | | |
| Poll Widget sizing | | | |
| 3rd Party Integration | | | |
| Open API access | | | |
| Salesforce | | Via ClickTools | |
| Eventbrite | | | |
| ExactTarget | | | |
| FreshBooks | | | |
| ReadyTalk | | | |
| MailChimp integration | | | |
| Affiliate program | | | |
| Support | | | |
| Support via email | | | |
| Support – FAQ, Tutorials | | | |
| Support – Chat | | | |
As you can see SurveyGizmo and QuestionPro have many more useful features in their free versions than SurveyGizmo, although a few are missing. Survey deployment capabilities continue to be a weak area for the free version of SurveyGizmo, where SurveyMonkey and QuestionPro do better. For example, in SurveyGizmo's free version I miss the ability to send survey invitations within the tool (you can do it with a paid subscription), but that can be fixed using MailChimp or any other email distribution system. If you use an external system, be aware that in order to send reminders, you have to download the data to check who answered the survey and then extract those from the reminder list. It is a bit of work, but doable.  
Although SurveyGizmo and QuestionPro have similar capabilities in basic functions, the latter doesn't let you download the data without upgrading to a paid subscription, which in my opinion is a big deal breaker since you don't have access to the raw data to do any analyses you may need. SurveyMonkey has the same limitation.
 As a professional market researcher I usually need very robust tools, so free online survey tools often fall short on providing features needed to develop complex surveys. Notice that none of these 3 free versions offer skip logic, but if you only need to deploy linear surveys without having to skip questions or reroute respondents, and don't want or can't spent a dime, I recommend you give SurveyGizmo a try. If you have some change to spare, I recommend you use on of SurveyGizmo's paid subscription plans, which don't require a long term contract obligation and have many more features at a reasonable price.