Packaging Research Needed to Drive Sales
| Posted: by Michaela Mora
In my previews article about why new packaging fails to drive sales I discussed how brain plasticity may explain the failure to drive sales in 9 out of 10 new packaging designs.
Neural connections are formed as we are exposed to different products and quickly get used to see them in a particular packaging (shape, size, brand logo). We know that it harder to unlearn old habits than to learn new ones, so when a new product surfaces on the shelf, we may not notice it unless the packaging is compelling enough to make us pay attention.
Research has shown that contrast improves the odds of shelf visibility for a new packaging, so a contrast jolt may be needed to take us out of the rut. However, in the case of existing products aiming for a fresh look to increase sales, the contrast can't be so big that consumers are unsure whether they are seeing the same brand, or frustrated by not being able to recognize it and find it, like it happened for Tropicana and Gatorade last year. This means that new packaging designs need to balance contrast and visual continuity in brand identity.
Existing products are not condemned to live with the same packaging in which they were born, but in order to succeed, marketers should not ignore brand expectations formed by the experience consumers have had with a product or product category. Those expectations have a physiological base in groups of neurons firing together, being used over and over, and getting trained over time in perceiving a product – its packaging, mode of use and underlying needs it meets – in a particular way.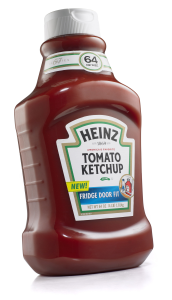 Aside from physical attributes (i.e. shape, size, colors,  graphic elements), a new packaging has a greater chance of success in attracting buyers if it fulfills unmet needs. The Heinz® Fridge Door Fit™ bottle launched in 2006 offering storage flexibility – which increased ketchup consumption by 68% – is a good example of how packaging can drive sales. Consumers may not be aware they have this type of needs until they see a solution. In this case new brain connections sprout and with them new expectations about a product or a whole product category are born.
Of course, we know that packaging alone is not the only factor weighing on a purchase decision. Deep seated product preferences,  the shoppers' decision-making process and attitudes and lifestyles have often a greater impact on purchase decisions than packaging.
Some consumers enter a store with a tunnel vision, looking only for the brands they are used to buy. Others, however, may shop first for the product category and then consider competitor brands within the category, specific product benefits, a particular package size or a price point. For certain products they scrutinize the product labels looking for information that helps them decide which brand to pick, while for other products, they only care about the price. Again, it is about behaviors rooted in trained neuronal connections based on experience.
Finally, there are other situational factors that could make a consumer deviate from its habitual shopping behavior: the brand is out of stock, its price increased, a friend recommends trying a new product, competitor brands are giving an irresistible offer,  and a new and seemingly improved alternative is offered for trial, among others.
Having said all this, we can't deny that packaging is a contributing factor to brand identity. As research has indicated, it is easier to damage a brand than grow it via packaging, so getting it right is not a trivial matter. Although many new packaging systems fail, packaging research can help to increase the odds of success. To that end, marketers charged with the task of launching a new product or refreshing the look of an established brand should conduct research to:
Understand how consumers shop the product category and what role packaging plays in purchase decisions
Understand brand and product perceptions and how deeply rooted they are
Identify unmet needs
Understand how the new packaging departs from consumers' expectations and what visual elements can be used to preserve brand identity
Assess how the new packaging will stand out in a cluttered environment  among competitor brands
Test different packaging concepts and evaluate the effectiveness of graphic elements and label information in adding uniqueness and encouraging purchase intent