Use Menu-Based Conjoint Analysis To Optimize New Products
| Posted: by Michaela Mora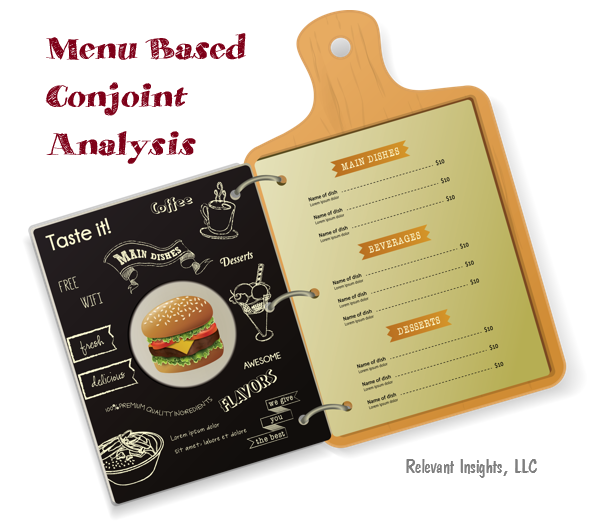 As the experience economy moves on to more customization and personalization, many products and services have adopted a "menu" approach similar to what restaurants offer.
You can now find product categories in which:
Different packages, including a certain number of features, are offered (e.g., Software as a Service or SaaS online services)
Products are offered in "combos" side by side à la carte items (e.g. McDonald's, customizable HP computers, banking services)
Customers have the opportunity to build their preferred product from scratch (e.g. Genghis Grill, Build Your Own BMW).
The challenge is to find the right balance of offerings to provide options for both Do-It-Your-self and Do-It-For-me customers.
The good news is that we have now tools that allow us to mimic and research a "menu" offering, faster and cheaper than ever.
Welcome to Menu-Based Conjoint Analysis.
This technique allows us to study customer choices in a context where customization is present, and multiple choices can be made.
Although this is often the best approach, it is pretty advanced and requires expertise to use it. Therefore, clients tend to favor the traditional choice-based conjoint analysis (CBC). Once they are familiar with this one, a few ventures into the adaptive conjoint analysis (ACBC).
Both approaches are useful. They are often enough to accomplish certain research objectives. However, they have some limitations.
Traditional Choice-Based Conjoint Analysis
In traditional Choice-based Conjoint (CBC) analysis, customers are presented with a set of options and are asked to select one.
Unfortunately, this may include features that may be irrelevant to the person making the choice.

Adaptive Conjoint Analysis (ACBC)
Adaptive Conjoint Analysis (ACBC) is an improvement by starting with a set of exercises aimed at identifying which attributes are relevant. Subsequently, we use them to create options from which participants have to choose one.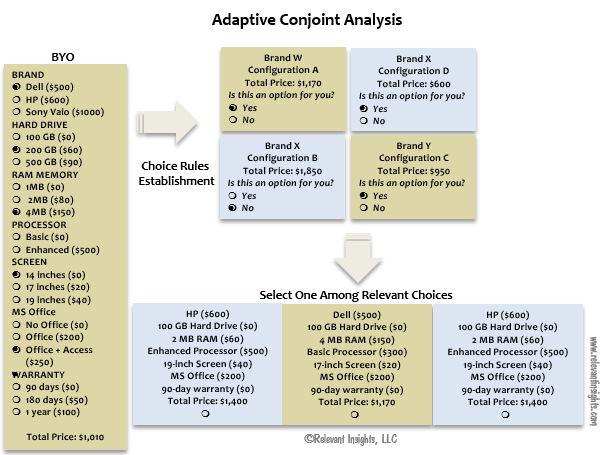 However, in both the traditional and adaptive approaches, participants can only choose one option. In contrast, in full customization scenarios, these approaches fall short.
Menu-Based Conjoint Analysis (MBC)
In the case of  Menu-Based Conjoint Analysis (MBC), we can create scenarios that match the actual offerings. 
Above all, you will get better insights from MBC if:
Your business provides complex products and services, and you want to identify which product features to focus development on
You are considering bundling features or product packages
For example, you may want to understand the choices between product combos plus à la carte items, or all à la carte items. In these scenarios, we let participants choose multiple options within the parameters of the offering.
As a result, we can then estimate the probability of choosing each "combo," or individual items presented in the menu at different prices.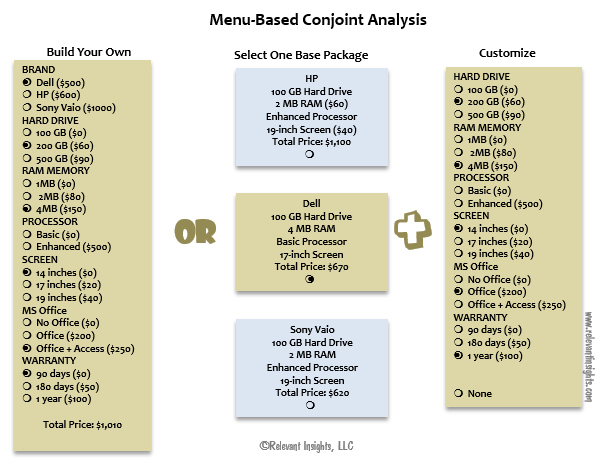 Business Questions For MBC
We can use the MBC approach to answer business questions such as:
How should we configure the offering? What items/features should we include?
What item combinations customers and prospects are more likely to purchase?
How many item combinations should we offer to different market segments?
Which prices by item or item combinations will increase purchase likelihood?
What are the optimal premium and bundling prices?
Which items are substitutes, and which complement each other?
Which products should we eliminate from the product line, without having a big negative impact on sales?
How will an offering structure change affect sales and profits?
What items would increase the conversion rate of a promotion?
Products & Services  Categories
Among the products and services that could benefit from Menu-Based Conjoint Analysis are:
Automotive
Banking services
Hotels
Pharma
Restaurants
Software as a Service (SaaS)
Subscription services
Telecom services
Website Development
Any service or product offering customized solutions
In short, menu-based conjoint analysis will help you not only to configure new offerings, but also to optimize your current products and services. Consequently, it can support your company's revenue and profit goals.