Why Do Concept Testing On Your Offers' Fine Print
| Posted: by Michaela Mora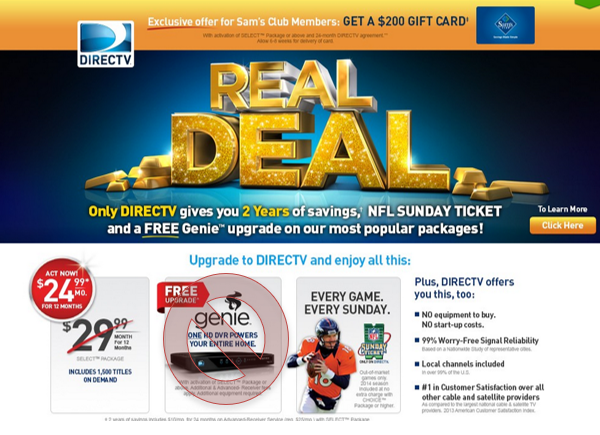 Doing concept testing of the offers' fine print is rarely done. A bad experience becoming a new DirecTV customer led me to think of how they could have spared me the whole ordeal with the help of concept testing.
A Bad Customer Experience
I became a DirecTV customer after receiving an offer from Sam's Club. The offer included a FREE Genie DVR, their most advanced DVR. I read the fine print carefully. I thought I understood it, but apparently, I did not.
The problem started when I realized they sent a regular HD DVR, not the Genie DVR. I called 4 times to customer service. The first 3 times, they cited that DirecTV offers were contingent on the customer's credit report, implying that maybe I didn't qualify. Thus, if I wanted it I had to pay another $99. This surprised me because my credit score is pretty good. Of course, none of this was mentioned in the offer.
The rep's tone was really condescending, with the message that "I should have read the contract before signing it."  Funny, they would say that. Being a researcher, I know the devil is in the details, so I always read contracts.
On the 4th call, I got someone who seemed genuinely interested in helping me. No luck. She called the "president's office" (Really? This was Sunday morning).  To get the Genie DVR for free, I needed more than one receiver. The offer didn't mention this either.
I felt mislead and lied to. On top of that, if I wanted to cancel the service, the penalty was more than $500.
After my calls, DirectTV sent me an automated customer satisfaction survey. Low ratings dominated my answers. I didn't expect anybody would pay attention to that.
Once I posted a comment on their Facebook website, Sam's Club replied very quickly. However, DirecTV was missing in action.
Why Are Companies Not Testing The Fine Print
Companies often don't want to hear that customers may not take the offer if they really understand the fine print. It's like not going to the doctor because you're afraid of getting bad news.
Unfortunately, whatever is happening, it is taking place whether you want to hear it or not.  I want to hear the bad news and find a solution as quickly as possible.
Wouldn't it be better to check how many people would not take the offer because of these terms and find another incentive to sweeten the deal?
However, the solution may not always be easy to implement. Some companies (like people) choose denial, which is always worse in the long run than facing the problem.
How Concept Testing Could Help
DirectTV could have avoided this mess with simple and relatively inexpensive concept testing. Usually, these tests tend to focus on big elements of the offer such service features, price, imagery. However, very few companies test the understanding of fine print about the offer terms.
In this case, I would have tested the comprehension not only of the offer but also the fine print with consumers from different backgrounds and education levels. 
Another approach we can use in concept testing is conjoint analysis. We could treat the Fine Print text as an additional variable with different versions. This approach would have helped them to find the optimal version.
In conclusion,  do concept testing of the offers' fine print. Don't wait until it is too late to find out you won a sale by trapping a customer. You may have them for a short while but will lose them in the long run.
Invest in testing the details and terms in your offers early and you will free the genie (pun intended) that will bring happy and profitable customers.