| Posted: by Michaela Mora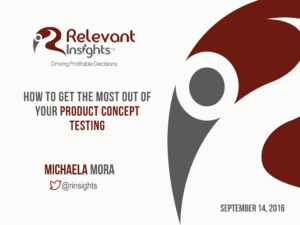 Welcome to our Concept Testing Webinar!
Concept testing is one of the most common types of market research many companies do. Unfortunately, sometimes no much thought is put into the concept design for testing purposes.
Lack of a clear process to develop good concepts to avoid confusion between product features and benefits or between product and positioning concepts often leads to results that are useless at best or misleading at worst.
To clarify things up, our friends at SurveyGizmo, invited us to discuss issues related to product and positioning…